Welcome To My Homepage
http://www.arts-literature-plm.mysite.com/index_1.html
PATRICIA MARTINEZ FREELANCE ARTIST
My Favorite Quote I don't know who said it first but I truly believe it..... The only limits in life is our own imagination, so why not push the limit as far as you can?
ARTIST BIO
I've been an artist for about 30 years. As early as four years old I can remember coloring pictures of red velvety roses while looking out the picture window at the roses my mother had planted in the front yard. At first my art was met with praise and encouragement, but only from my mother who died when I was young. It became clear that others did not share her excitement. They called it constructive criticism but it felt more like condemnation and discouragement. I entered a few art shows over the years and received a few honorable mentions but was mostly advised not to enter at all because my art just wasn't good enough. None of this could ever change the love for art I feel inside.
Other than a couple of high school art classes, I'm a self taught artist. I first learned to paint in oils but now mostly paint in acrylics. I occasionally express in other mediums such as pencil or ink. I also like to mix mediums and experiment with different surfaces.
I've never wanted to be a famous artist or expected to earn a living at it. The only reason I have keep trying is because I know no way to still my passion, my love for the expression of my spirit. Even when the quality is lacking the spirit is unyielding. I can only hope that others when viewing my art, will feel the passion and enjoy it as I do.
PRICING
Prices are based on size and materials & also includes shipping, packaging. and 7.5% NM gross sales tax Method of payment must be USD check or money order or Pay pal account. As soon as payment is received the art will be promptly shipped. .
Note Many of the photos are not as clear as the originals. This is to help avoid right click stealing of art. All of my art is signed and copyrighted. Copyright © Patricia Martinez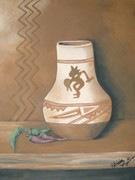 Kokopelli Pottery Painting
20" x 16" acrylics on stretched canvas
$150.00 USD
If you are interested purchasing my art, email me placing art in the subject at the email address below:
Buck Face-Fiber Arts
2006 33" x 23"
Latch Hook made from acrylic yarn on plastic
canvas with plexiglas & wood frame. $300.00 USD